Because it makes me sound like a much better person than if I title this post "NYC.. For the Love of Cronuts". Honest, yes, but not selling the loving sister image that I actually am (I dare you to disagree with me, my dearest siblings!).
So, here's the story. Couple months ago, my older brother floated this idea that I should hop on the plane to visit him in NYC because he's relocating to the West Coast sometime in April. You know, once he's not living in NYC anymore, gone are my free accommodation and hot water in the shower. Gone is the local guide who can show me how the New Yorkers really live, and where to hang out without being squeezed from all directions like a bunch of anchovies in a can at Times Square area. Because I'm a practical person who loves cost-cutting solutions, I thought to myself why the hell not? Why not find the cheapest flight ticket possible from Paris to NYC to visit my brother, help him pack his stuff (it's the thought that counts!), and save on accommodation fees? I mean, it's better than visiting NYC in the future when I have to pay for Airbnb or hotel rooms. What did I tell you? Practical. (I hope I did you proud, my high school Accounting teacher!)
Long story short, there I was, finding myself at JFK Airport struggling with my suitcases in late March. The next day, I had my first lunch in the city at Bubby's in the Tribeca area. That's right, I ordered that beautifully fried and juicy chicken accompanied with warm biscuits. The cobb salad was honestly whatever, but maybe that was because it was pale in comparison to those golden beauty that was my fried chicken. And plus, I like the cozy ambiance of the restaurant. It was like eating at somebody's sunlit dining room.
My brother lived in East Village at the time so it was very convenient for me to walk around his neighborhood, and it's only a 15-minute walk to SoHo. There's this little Japanese café, 2 minutes away from his apartment, called Wabi. They don't have any tables and there is only one bench inside, so the drinks are made for to go. Let me tell you, they know what they're doing there! Each drink was prepared meticulously and it did take a little bit of time. I particularly love their iced black sesame latte (OMG!) and iced sakura matcha latte (they even put dried sakura on top as pictured above). Please, Wabi, consider opening a branch in Paris, I'm salivating just thinking about those velvety drink creations of yours.
Another favorite place of ours is Morgenstern's ice cream parlor. It's really close to SoHo and the ice cream was smooth yet light yet flavorful yet mild. I don't know what it is about their ice cream but I came back for more. You can also add toppings such as honey, caramel, various nuts and many more. I don't know why I'm writing this at almost 2AM and where the closest ice cream parlor is McDonald's that's also already closed at this hour anyway (Yes, McFlurry with oreo, I'm actually thinking about you).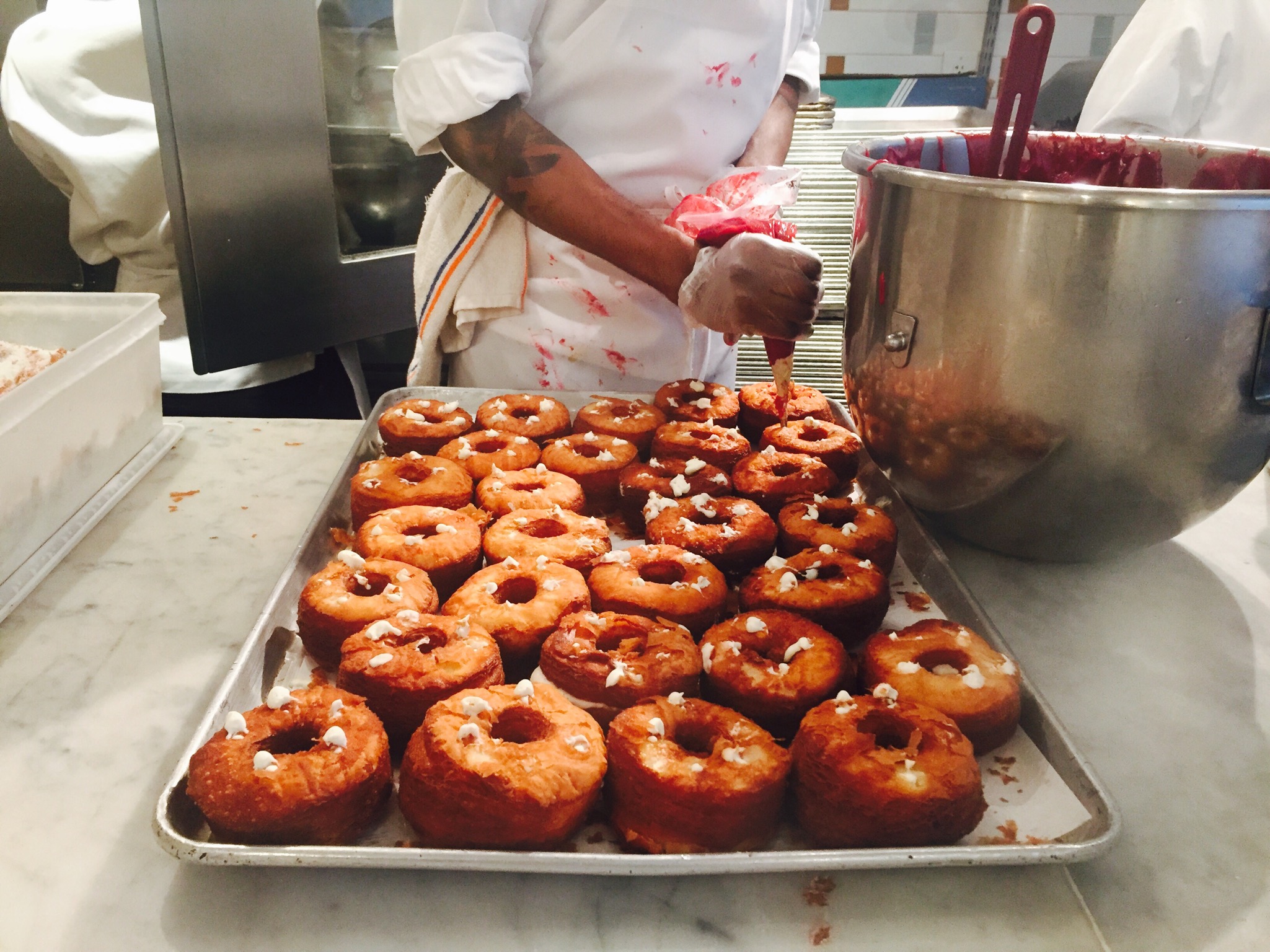 And, of course, I'm gonna talk about cronut by Dominique Ansel. The flavor of the month of March was raspberry coconut and man, did they nail this one. When I took my first bite, all the croissant like layers oozed with raspberry and coconut filling that I had to grab a plate so I wouldn't spill it all over. Luckily, we didn't have to wait too long for it and by the time the people that were behind the people that were right behind me (does this make sense?) wanted to buy some cronuts, they were already out. Phew, that was a close call. Alternatively, you can order cronuts online from their website 3 weeks in advance if I'm not mistaken, so you can just pick it up at the store. Also, while you're there, you might wanna try their chocolate cookie that, in my opinion, is a hybrid between chocolate cookie and molten lava cake, coolten, if you will. It was sooo gooey and moist and all sorts of wonderful things chocolate can be. Another of my favorite is DKA, which is Dominique's Kouign Amann, a delightfully delicious croissant like pastry from the France region of Bretagne or Brittany in English. It's a little bit (okay, a lot) on the sweeter side and it's not to be consumed if you're watching your calories intake but screw it, yoga class and bikini body can wait. Sorry, I don't have good pictures of the cookie and DKA because I already ate them before even thinking about snapping pictures of them. Yeah, this is why me and size 0 don't belong in the same sentence.
Over the weekend, my other brother, the younger one, who lives in Los Angeles came to NYC to join the fun. We then had to find a hotel room because my older brother's apartment had no bed anymore and thus couldn't accommodate the 3 of us. The first, second, and third picture you see from the gallery right above were taken from The James Hotel and the rest were taken from various locations in SoHo. The rooftop bar of the hotel is such a cool place to chill and relax while enjoying the skyscrapers scattered throughout the city. I really like my stay there because one, the hotel itself is tastefully designed, and two, it's in SoHo, so it's walking distance to shops, restaurants and cafés.
Ah, NYC Chinatown... One of my favorite neighborhoods to roam in. My brother and I talked about it the other day, we feel like the older we get the more we appreciate our Asian-ness. As much as we love to try international cuisines and sometimes we crave for juicy burgers too, our tastebuds get restless if, in the long run, they don't detect rice, chili, jasmine tea, char siu pork... you get the idea. Kam Hing Coffee Shop has an excellent selection of sponge cakes in various flavors. Somehow, these sponge cakes reminded me of home and of my childhood. Again, I ate the sponge cakes before taking pictures of them, that's why I'm not a food blogger because I tend to eat things the second I get them. They used to be located across the street and this new location is much bigger than the old one. You should definitely walk around Chinatown while eating sponge cake from Kam Hing like I did, and explore the many bakeries, shops, and restaurants there.
As you can see from the photos above, here is an assortment of cafés I visited during my time there. The first one is Gasoline Alley Coffee, damn it, why didn't I take another picture in which the barista is not blurry? It's okay, I self-assuringly told myself it gives the photo more movement and makes it more alive. I also really like this smooth and frothy almond latte from Happy Bones. The next one was taken in Eileen's Special Cheesecake, where my friend and I shared 4 of those mini cheesecakes and still wanted more! And then the next picture was taken in this cute little Taiwanese tea place called Té & Company in West Village. I really like their pineapple cookie (as pictured), it's this modern take on Taiwanese pineapple cake feng li su (凤梨酥) which I love! This pineapple cookie has some lime zest and what I guess is chili powder of some sort because it does have this spicy kick to it. The next picture is just of this building I randomly passed by around there. The next ones were taken in The Elk, this coffee shop that's also located in West Village. My brothers and I went there to get coffee to go but given another chance I'd spend some time there enjoying the easy-like-sunday-morning ambiance the café has.
Crossing over the bridge to Williamsburg, Brooklyn, I actually got to explore this neighborhood more this time around. I find the restaurants and cafés there very innovative, and much more spacious than the ones in Manhattan. I mean, look at that tree inside House of Small Wonder, this charming Japanese European fusion place that's perfect for brunch. You also have to check out Devoción, this airy coffee shop whose coffee beans are from Colombia is my favorite coffee shop during this visit in NYC. They have great coffee and a very laid back atmosphere with plenty of sunlight. Oh and do me a favor and go to Manila Social Club, this modern Filipino restaurant has the most heavenly and light as air mango soufflé pancake with ube ice cream. Yes, that purple sweet yam you see in the picture is this perfect thing called ube. Please, I beg you, try their ube donuts too that are currently only available to order online here, or whenever they're having their special events. The other coffee shop/bar featured above is Freehold, where my brother and I went to grab iced coffee after our morning jog. Yes, we did jog because one can only harbor so much guilt from pigging out like crazy. This place is hugeee and they also have a small arcade room at the back where we played some shooting video game. Man, do they have space in Williamsburg.
Another fun place to visit in Williamsburg is Museum of Food and Drink. At the time, they were having this exhibition about flavors, both natural and artificially made ones. It was super interactive and engaging, even for someone like me who almost failed high school chemistry. There was this jelly beans station where we could experiment with our senses and learn how significant of a role our nose plays in detecting and tasting flavors. I don't know why I didn't take that many pictures, maybe because I was too busy tasting jelly beans and playing with the smell stations they have. Anyways, at the end we can draw or answer some questions they provided and even hang it for everyone to see.
The left one was my older brother's creation and the right one was mine. So much for all that pigging out, huh? Also, the saucy response you see in the next picture was that of my younger brother's.
I spent about 1 week in NYC and I had soooo much fun. I love how dynamic and energetic the city is, although I don't know if I'd love it as much if I were to live there. I definitely look forward to another NYC trip in the near future!