When someone asks me, "Do you like living in Paris?", this is what I usually do. Firstly, I take a deep breath to mentally prepare myself to answer the question as flashes of images of Paris fill my head.
The warm baguette tradition and its orgasmic crust. The nonchalant waiters and waitresses who never seem to look my way in restaurants. The beautiful gleam of golden light on the surface of the Seine river at night. The gloomy faces of commuters on the cramped metro.
How do I answer this question without telling my life story?
So then, when I exhale, I answer, with my carefully rehearsed script, "Well, it's a love hate relationship that I have with Paris."
Truth be told, I love this city. Paris, je t'aime. How could I not? When beauty can be found practically wherever I go. It's in the numerous artworks by legendary artists, both from the past and the present days, whose works I otherwise could only access on Google image. It's in the omnipresent Haussmann buildings with the colorfully beautiful wooden doors, bluish gray roofs, sturdy and antique looking beige stones that make up the façade of the buildings. It's in the cobbled stone streets that caused me to throw away a pair of shoes or two, but charming regardless. It's in the way the French treat their pastries so delicately, wrapping them up with so much respect in very pretty packagings that are of higher quality in the packaging world than what I put on my face in the skincare world.
Why is it a love hate relationship then? Where does the 'hate' fit in the picture in this picturesque city?
Okay *deep breath*, let's talk about the service here in Paris.
Recently, I encountered really bad service from two different people, two days in a row. The first incident took place on one cold evening after a tiring day. I was in a particular hotel in the 15th district of Paris, where I met and worked with my client, carrying two sets of heavy suitcases plus a backpack full of makeup products. The concierge at the hotel was very helpful and he asked me if I needed a taxi. I usually don't take taxi as I opt for the metro or Uber, but seeing that there was a taxi stand right outside the hotel, and plenty of available taxis, I told the concierge that yes, I would be needing one, thank you.
The concierge asked me where I was going and if I had a specific address. I said yes, I have an address and it's in the 16th district of Paris, which was nearby. He then explained my situation to the taxi driver. So I got in the taxi, and the driver started driving right away. Afterwards, he asked for the address of my destination and entered it into his GPS. So far so good. Upon finding out the distance of my destination, all of a sudden, he became agitated.
"C'est juste à côté!", he exclaimed, which means it's just right there.
I was a little taken aback by his sudden outburst, unsure how to respond.
"Is there a problem?", I retorted.
"Oui! Your destination is too close and I've waited for an hour at the taxi stand!", he countered in a flustered manner.
I was beyond angry. I was exhausted. It was cold outside, I had heavy suitcases in the trunk, and all I wanted was just to be home without any incidents.
"But, Monsieur, back at the hotel, the concierge and I already told you that I'm going to the 16th district," I answered with all my might not to explode.
"Oh.. yeah," he sounded a little defeated, "That's true.."
I don't know if I was wise or stupid for not saying anything else afterwards. I was in my seat, seething, debating what my next move should be. A part of me wanted to yell, "Let me out then! Let me out if you don't want to take me to my destination!". But as much as I would love to stroll around this city with the Eiffel Tower literally in the background, I didn't want to do it with so many heavy belongings, in the cold, and in a zombie-like state. And plus, the driver already knew my address so I thought it wouldn't be wise to start an unnecessary fight with him.
I was so tempted to tell him, "Thank you for helping me make up my mind! Before this, I still thought Parisian taxi was worth another shot, despite the unpleasant experience I've had with you guys. That maybe you guys were somehow right about Uber being an unfair competitor. But thanks to you and your despicable attitude towards me, I will never take Parisian taxi anymore. So yeah, merci beaucoup, Monsieur!".
In the end, though, I held my tongue. I was really tired. I just wanted to hop in the shower and go to sleep as I had another early morning the next day. The driver, fortunately, remained quiet too and didn't show any signs of aggression. When I reached my apartment, I paid the fare, and got out of the taxi as fast as I could. In my head, the word 'asshole' kept floating around. I couldn't believe what just happened.
I tried to see things from his perspective. The driver had been waiting for an hour outside the hotel's taxi stand only to get a €7.50 fare. It was understandable for him to feel frustrated. Then again, the concierge at the hotel already told him my destination. He could have refused to take me right then and there. Why would he then take his frustration out on me when nobody forced him to take me as his passenger?
Well, one might say, this is Paris. The city is not exactly known for its impeccable and friendly service.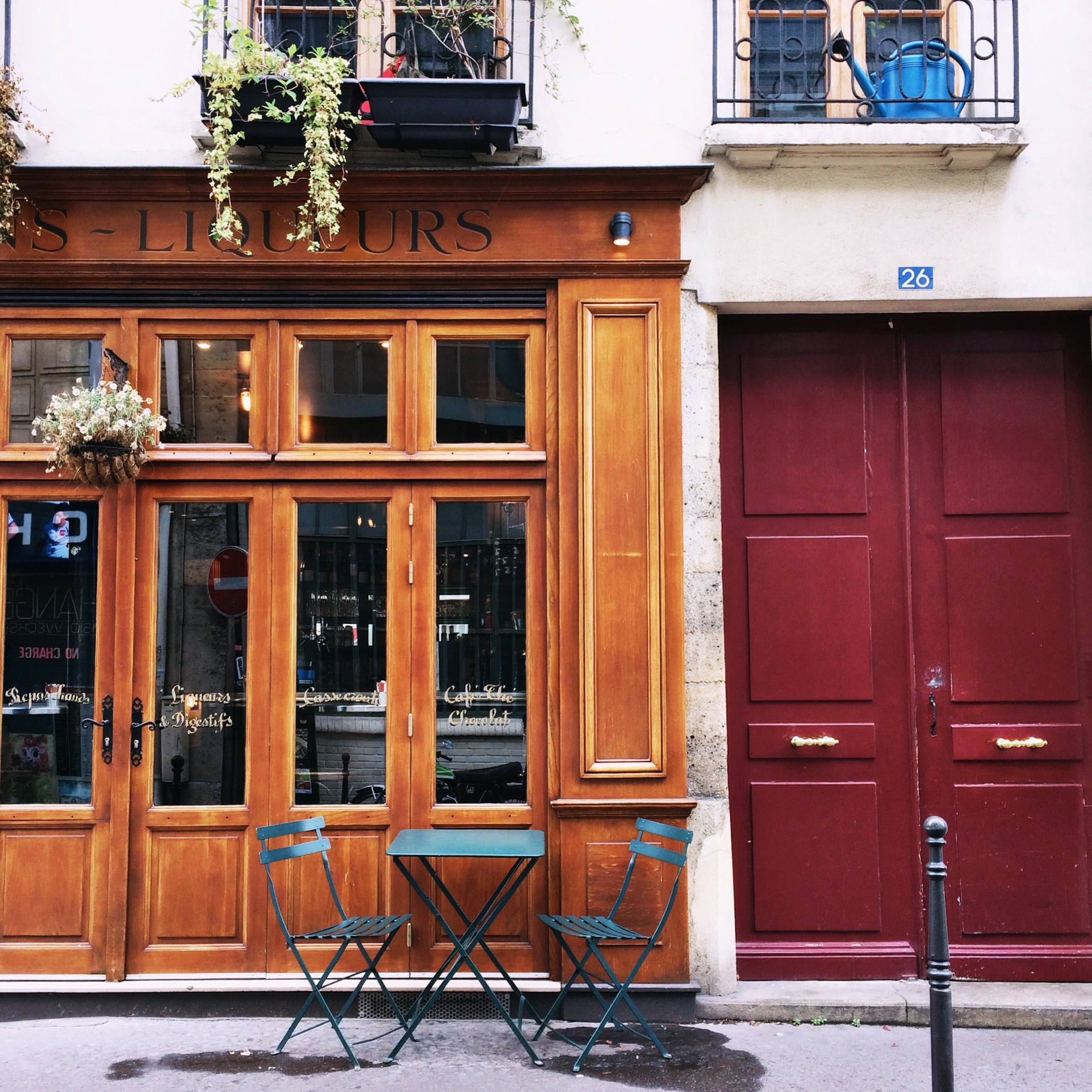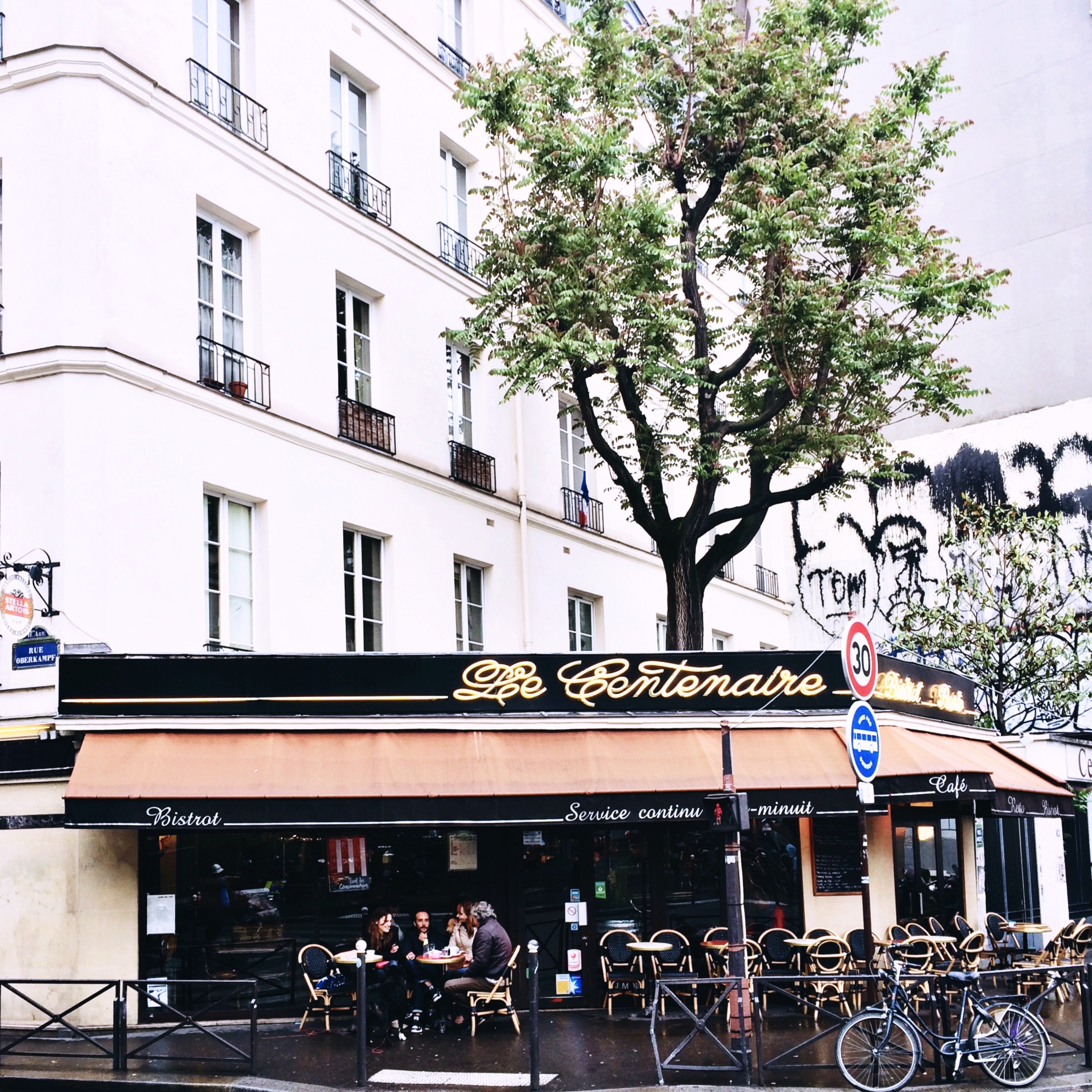 This brings me to the second incident. It took place in a café the next day (disclaimer: this café is not pictured above). There were four of us and we wanted to get a table outside on the terrace. I approached the waiter at the welcome desk to ask if we could get a table for four outside. He looked at me and replied, "Oui," half-heartedly. And then, he went on doing God-knows-what behind the desk and continued to ignore me. I stood there, puzzled, uncertain if I should keep waiting or if I should just grab a table myself.
He then looked up and called out to another waitress to approach him. I thought okay, this is it, he's going to ask her to show us our table. Boy, was I wrong. They just exchanged a few words and then he continued to act busy. I was still standing right there and it started getting awkward. The waitress finally noticed my presence, and rather surprised to see me, asked if we've been helped.
Oh, mon Dieu, seriously?! What did the waiter say to her before? He announced he wanted to go for his break I imagine. But definitely not about four potential customers looking for a table on the terrace.
When it was time to pay the bill, my friend tried to come up with the exact change. Let's say the total was €20.20, he then put one €20 bill, one 10 cent coin and five 2 cent coins. The waiter who took care of our table saw this and he gave us the five 2 cent coins back rather crudely, to emphasize that in case we didn't get it, 2 cent coins were beneath him.
What made it worse, he then complained to his colleague right in front of us, in French, "Putain (Fuck), they gave me a bunch of 2 cents!".
Wow, what a service. And the café was supposedly a nice one, with all the waiters wearing chic suit and bow tie, and overpriced beverages and everything.
You might think after three years of living in Paris, I would have gotten used to it. Hell, to the fucking no. Bad service pisses me off like nothing else could. What I do for a living revolves around service too, so I understand that sometimes when we're tired or when we have our own problems, it could be challenging to still provide a good service. But it doesn't mean one should deliberately be giving others a poor one and not even bother to try their best.
See, the thing with Paris is sometimes I feel like Paris is like a boyfriend. Sometimes we have disagreements, we have arguments as well as accumulated resentment. And sometimes one little problem we have in our relationship, it's more than enough to wipe away tons of other good memories momentarily. That's exactly the case with my relationship with Paris. There are countless times when I feel annoyed and frustrated to be in this city. The once charming café tables on the terrace suffocate me as I find them to be too small and there is not enough space between me and everyone else to be sitting comfortably. Despite the fact that the metro (line 6) overlooks the majestic Eiffel Tower, I find myself wondering, in disgust, what the dark colored stains on the metro seats could be instead. Don't get me started on the administrative affairs I've had to deal with in Paris. This needs an entire post on its own. Let's just say it's no Disneyland. And, of course, the bad service. Oh em gee.
And like a boyfriend, after each fight, Paris and I make up. It lures me back with its undeniable charm, feeds me with oh-so-delicate macarons and heavenly creamy éclairs, cutting edge installations at countless museums, stunning architecture, and of course, the Seine river. I'm not talking about the often murky water during the day, I'm talking about the Seine as in Woody Allen's Midnight in Paris movie. The bridges and the buildings around the Seine really are mind-blowing.
I often feel like the love I have for Paris is one-sided. Like no matter how hard I try, I'm the only one invested in this so-called relationship.
But then again, I kid you not, every time I feel this way, the smell of butter and freshly baked pastries in the air, the rows of polished bottles of pinot noir and chardonnay, the silky foie gras on toasted bread, are calling my name, telling me that despite all of our disagreements, they love me too.